December 11, 2017 | Lisa Strid
Manischewitz and Kosher Wines
Happy Hanukkah, everyone! In honor of the holiday, which starts tomorrow, we thought we'd take a little time to talk about kosher wine options. Unfortunately, Aridus does not offer a kosher wine at this time, but we're more than happy to point you in the direction of some elegant options.
The wine that most people think of here in the US is, of course, Manischewitz.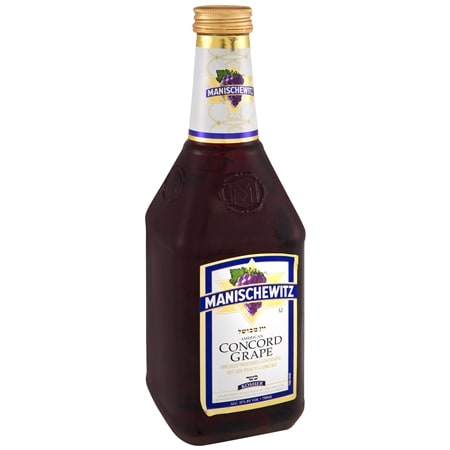 It's Concord-based, which means that it's made from non-vinifera grapes. Vinifera are the species that produce the wines we're most familiar with-- your Cabernets, Chardonnays, Syrahs, and so on. As a result of being a different species, a lot of the aromatics are different. That Concord aroma that carries through to the wine is what is known in the wine industry as "foxy." The compound is methyl anthranilate, and there are a lot of claims as to where the descriptor "foxy" came from, but one story goes that to the British, wines made from American grapes smelled like fox dens. In any case, it's not a bad thing, just a different thing than what most of us are used to from a table wine. All the products in the Manischewitz line have at least some measure of residual sugar, so if you're looking for a dry wine, you might want to look further, but if you want a bit of sugar and want to try something different, give Manischewitz a shot!
One excellent source of fine kosher wines is none other than the country of Israel. Wine grapes have been growing in the area since probably around 5000 BC, but modern kosher wine production really began in the 1880s. The producers in Israel are truly producing wines that are world class that just happen to be kosher at the same time. A huge selection can be found at the online retailer kosherwine.com. Look for red wines from Israel in particular, such as Cabernet Sauvignon-based wines, Syrahs, Malbecs, and one of our favorites here in Arizona... Petite Sirah.
If reds from hot climes aren't your cup of tea, never fear. There are kosher wineries throughout the world. Oregon's Evan's Vineyard produces a pinot noir and a meritage blend from Washington, and the same owners produce the Goose Bay label out of New Zealand to quench your thirst for Sauvignon Blanc. If you must have Napa, look for something from Covenant. They have Cabernet, of course, but also Sauvignon Blanc and Chardonnay.
See what you can find, and be sure to let us know if you have any particularly fantastic kosher wine this Hanukkah!